On February 11th and 12th I had the opportunity to work on set with 8112 Studios once again on a music video for Cedric Gervais called "Molly." The first day was shot at 206 Studios in Alexandria, VA and the second day was shot at District in Adams Morgan, DC. My makeup station was set up on the level above the shooting, and I had the pleasure of watching the filming of the music video concurrent with applying makeup on the featured models. It was a long day of shooting, I did over 30 makeovers, but I enjoyed every minute of it. All the girls were friendly and enthusiastic about their roles. Here are some behind the scenes photos from upstairs: My makeup application, The hair stylists Yanni Metallinos, Sergio Giovanni, and Jhake Alejandro, Me and the director, Nicholas Cambata, with go-go dancer, Aymi Ayala, and the finished makeovers on extras Jana Dias and Valerie Downs:
Since I was occupied with makeup application almost the entire time, I didn't get a chance to walk around to get photos of the team working. My photos can't begin to show the energy and craziness in all the scenes, so I have collected images from several different photographers that participated. There was a lot of sweat, body painting, break-dancing, flame spitting, fire-hula-hooping, and of course makeup! Credits to the photographers' facebook pages are linked below.
More about the artist Cedric Gervais: The French born DJ and Producer has been based out in Miami for a number of years now and is currently making name in EDM's ever growing DJ movement state side. After the teaser video of his new record 'Molly' was revealed, the buzz around this talented producer grew exponentially and we're not surprised. Madonna, who made a surprise appearance during Ultra Music Festival, called out to the 20.000 ravers asking them if they knew where Molly was, making 'Molly' one of Miami's highlights of the week according to Billboard Magazine. Besides the popstars' support, Cedric's new tune has been noted by BBC Radio 1′s Pete Tong (Essential New Tune) among a great list of some of the biggest DJ names in this bizz. Its heavy bass lines and infectious mid-section make 'Molly' a certified summer anthem that will have crowds going wild across the globe and appears to be evidence that the move continues to only feed Gervais' creative genius.
When the Molly video premiered in Miami, Florida at the Winter Music Conference, there was a lot of controversy because Madonna came on stage in front of over 30,000 people and mentioned Molly. The popular artist, dead mau5, bashed her comment and the feud and YouTube videos quickly spread all over blogs and social networks. Eventually Madonna had to release a statement that she has never encouraged drug-use. …I think I have stalled long enough; here is the official video for Molly that launched today! For anyone who wants to see the teaser video before watching the official premiere, you can view at this link: http://www.youtube.com/watch?v=CiMpoKc0Dyc

Before the music video released, I also attended the pre-premiere party hosted by Shy Magazine at Barcode in Washington, DC. It was great to reunite with all the models and team members that I had worked with on set. The teaser video was shown on all the screens and it got us all excited to see the full video. For more details on the event, you can visit: Shy Magazine hosts 8112 studios pre-premiere music video event!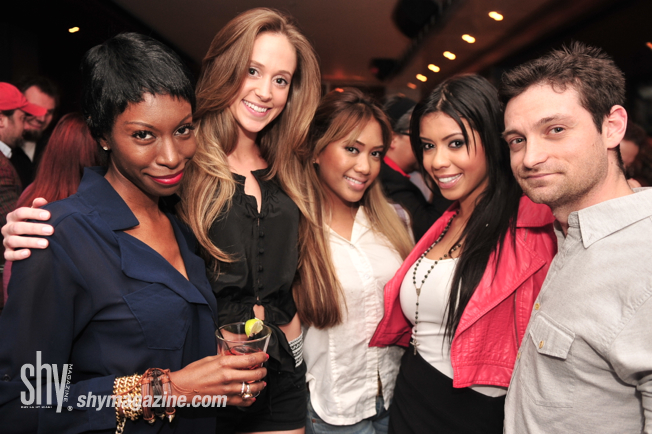 From left to right: Shan Lachel, Jordyn Witko, [Me] Dinechka, Chrisy, Gregg Zwirn.
Last, but not least, I did makeup application on all the models for a promo shoot for the video shot by Douglas Sonders, collaborating with CCR Brand and their One-Z's hoodies. Photos will be up as soon as they release!
Comments
comments